* Fitment: The shock absorbers are compatible for Mitsubishi Lancer & Ralliart (CY2A/CZ4A) 2008-2016
* High Tensile Strength Performance Spring: Front: 9kg/mm (504 lbs/in), Rear: 6kg/mm (336 lbs/in); Tested under a 600,000 time continuous compression test, the spring distortion was less than 0.04%
* Adjustable Performance: Able to lower ride height by 1''-3''; 24 ways Adjustable Damper
* Twin-Tube Shock Design: Used for low internal frictional resistance in order to increase efficiency and keep shock temps low
* Al6061-T6 Material: Most components of the suspension parts are made from 6061-T6 aluminum to increase strength and rigidity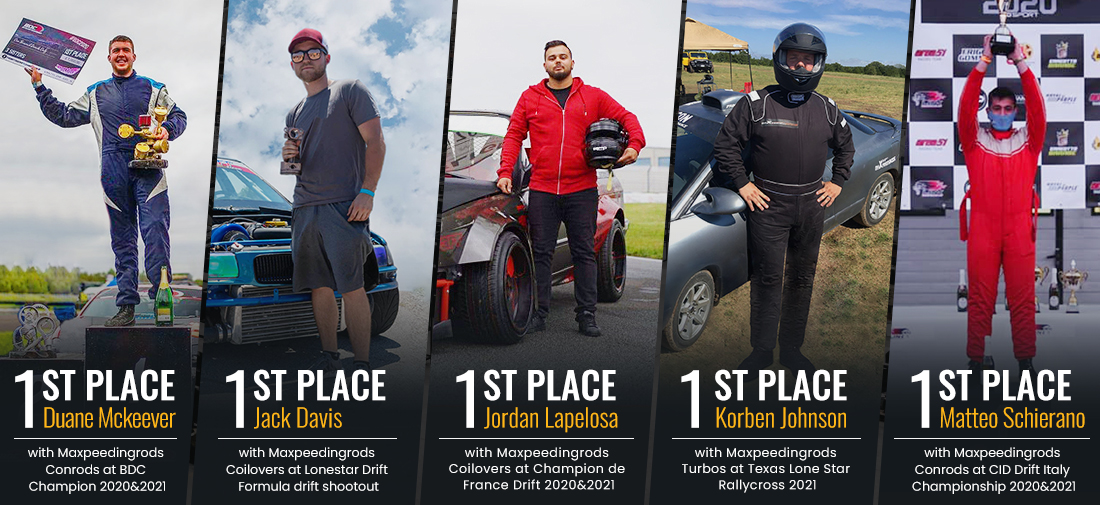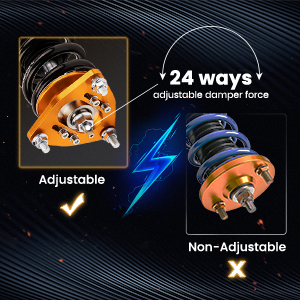 1.Adjustable Damper & Height
24-way adjustable damper force allows the user the ability to dial in your coilovers to any driving needs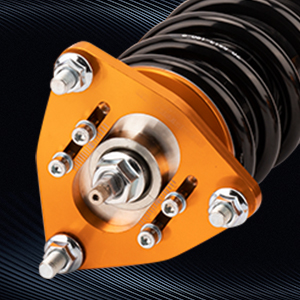 2.High Quality Components
Most components of the suspension parts are made from 6061-T6 aluminum to increase strength and rigidity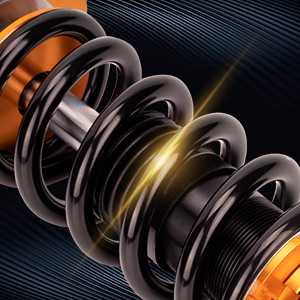 3.High Tensile Strength Spring
Tested under a 600,000 time continuous compression test, the spring distortion was less than 0.04%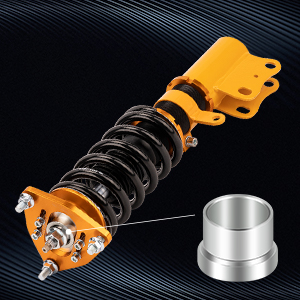 4.Twin-tube Construction
Twin-Tube shock design is used for low internal frictional resistance and dust boot protects damper seal
Introduction
A coilover is an automobile suspension device. Thanks to built-in adjustability, coilovers offer the ability to be shortened or lengthened - lowering or raising the ride height of your vehicle through manual adjustment, without complex electronics or hydraulics. A coilover kit consists of a damper and a shock absorber with a coil spring around it. Maxpeedingrods provides performance aftermarket adjustable coilovers suspension kit compatible for Mitsubishi Eclipse and compatible for Mitsubishi Lancer & Ralliart series. You can enjoy a comfortable riding experience in all road conditions.
Application
Compatible for Mitsubishi Lancer & Ralliart (CY2A/CZ4A) 2008-2016
Excludes Lancer Evolution
Specification
Top mounts: pillow ball top mount with camber plate front, standard rubber top mount rear
Quantity: 2 pieces front + 2 pieces rear , Spanner as shown in the picture
Front Spring Rate: 9kg/mm (504 lbs/in)
Rear Spring Rate: 6kg/mm (336 lbs/in)
Color: Golden
Damping: 24 levels rebound damping adjustable
Shock type: Twin tube.
Spring Preload: 7-10 mm.
Adjustable Height: Yes lowering 1" to 3"
Adjustable Camber Plate: Front Yes
Warranty: 1 year warranty for any manufacturing defect
Features
- Able to lower ride height by 1''-3''; allows user to have a more aggressive stance.
- Coilovers are 24-way adjustable. Rebound and Dampening adjustment which allows the user the ability to dial in your coilovers to any driving needs. The user can enjoy a comfortable riding experience in all road conditions.
- Twin-Tube Shock design is used for low internal frictional resistance in order to increase efficiency and keep shock temps low.
- Height adjustment does not sacrifice damper stroke length.
- These coilovers are able to have their height adjusted without being taken out of the car.
- High Tensile strength performance spring---Tested under a 600,000 time continuous compression test, the spring distortion was less than 0.04%. Plus, the special surface treatment improves the durability and performance.
- Adjustment tools included in the kit.
Notice
- No instruction included; Professional installation is highly recommended.
- Please check our store for other auto parts you may be interested in.
- Please feel free to contact us for whatever we can help.
Enter your destination to get a shipping estimate.