SIGN UP COUPON OFFERS, $10 OFF $200+, COUPON: WELCOME
BUYER'S GUIDE
We've gathered all of our parts knowledge and tied it with our site to create buyer's guides to help you purchase the right car parts.
SEE MORE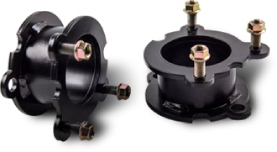 SUBSCRIBE AND GET 5% OFF DISCOUNT
MaXpeedingRods provides any custom car parts, including coilovers, turbo, suspension kit, connecting rods, crankshaft, engine system, steering system, carburetters, and car accessories etc.

Unlike some online aftermarket providers who only serve Porsches Lamborghini, Maserati, McLaren. At Maxpeedingrods, we serve any brand and can make your performance automotive dream come true at a very competitive price. Whether you are looking for Mercedes, Audi, BMW, Volkswagen, Volvo, Buick, Chevrolet, Dodge, Ford performance auto parts, or search for Honda, Toyota, Nissan, Mazda, Lexus, Mitsubishi aftermarket auto parts; Whether you want to increase horsepower, improve handling and braking, or lower car height to make it look better and attract more attention; Whether your vehicle is a car, truck or SUV; Whether you want to drive your car on the street, at the track, or even off-road. You can get what you want on MaXpeedingRods.

Fine feathers make fine birds. Few people are satisfied with factory stock appearance. At the same time, the quest for speed is innate to humans, and no matter how powerful and fast the factory makes it, we know you're not satisfied with OE performance either. Do you want the exhilarating roar that accompanies you when you step on the gas? Do you want to try the feeling of being nailed to the seat when you start your car? Maxpeedingrods performance car parts offer it all. The only thing you need to consider is just how much horsepower you really want?

MaXpeedingRods.com is a reliable car parts online shop established to provide better car tunning service, you can quickly find the parts and accessories that best fit your budget by entering the manufacturer, year and model of your car. We offer free US delivery on all orders when products are available in the local United States. Maxpeedingrods provides an extensive range of auto parts from daily to high performance, each product is accompanied by clear illustrations, descriptions, menu selections, product reviews posted by other customers and search options to make your selection easier. In addition, you'll find links to helpful buyer's guides and blogs written by professional technicians. For more information, please visit -https://www.maxpeedingrods.com.

SEE ALL

CLOSE UP