Product Code:
CO-SUBGDB-G-NA
- Applications: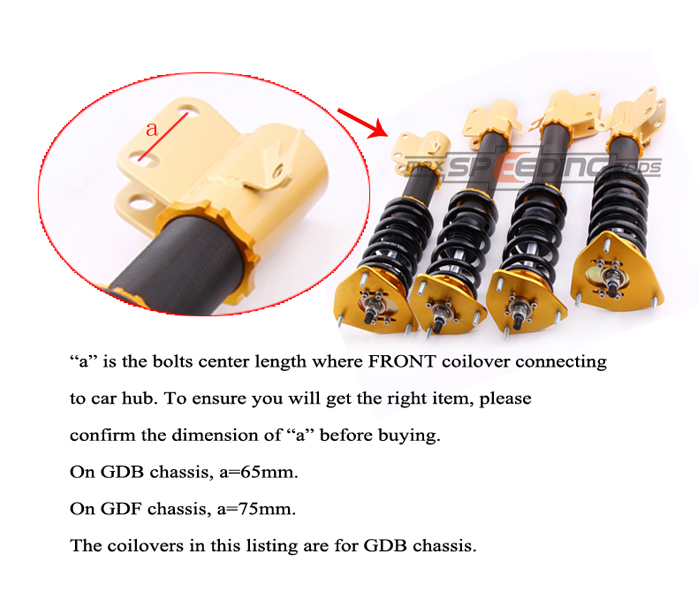 * for Subaru Impreza WRX 02-07 GDA GDB (WRX Wagon, 2.5RS Models)
* for Subaru Impreza WRX STI 04 GDA GDB
* for Subaru Forester 03-08 GDA GDB
- Type: Suspension parts / shock absorber / coil spring over struts
- Color: Golden
- Spring Rate: 9kg/mm (504lbs/in); 7kg/mm (392lbs/in)
- Camber plates / top mounts: adjustable & pillow ball design
- Damper: Non adjustable damping
- Coilover Feature
* Adjustable ride height
* Adjustable pre-load spring tension

* Pillow ball top mount -- this design helps combat noise while tuning. It also improves the steering feel and response

* Most components are made from 6063 aluminum with T6 for increased hardness -- the advantages include excellent strength, and aluminum helps keep the weight down.

* Hi Tensile performance spring - Under 600,000 times continuously test, the spring distortion is less than 0.04%. Plus, the special surface treatment is to improve the durability and performance.
* All inserts come with fitted rubber boots to protect the damper and keep clean.
* Improve your handling performance without sacrifice comfortable ride.

* A fast and affordable way to easily upgrade your car's appearance.

* Easy installation with right tools.

* Ideal for any track, drift and fast road and can also be used for daily driving.

Please feel free to contact us at SalesUS@Maxpeedingrods.com if you have any questions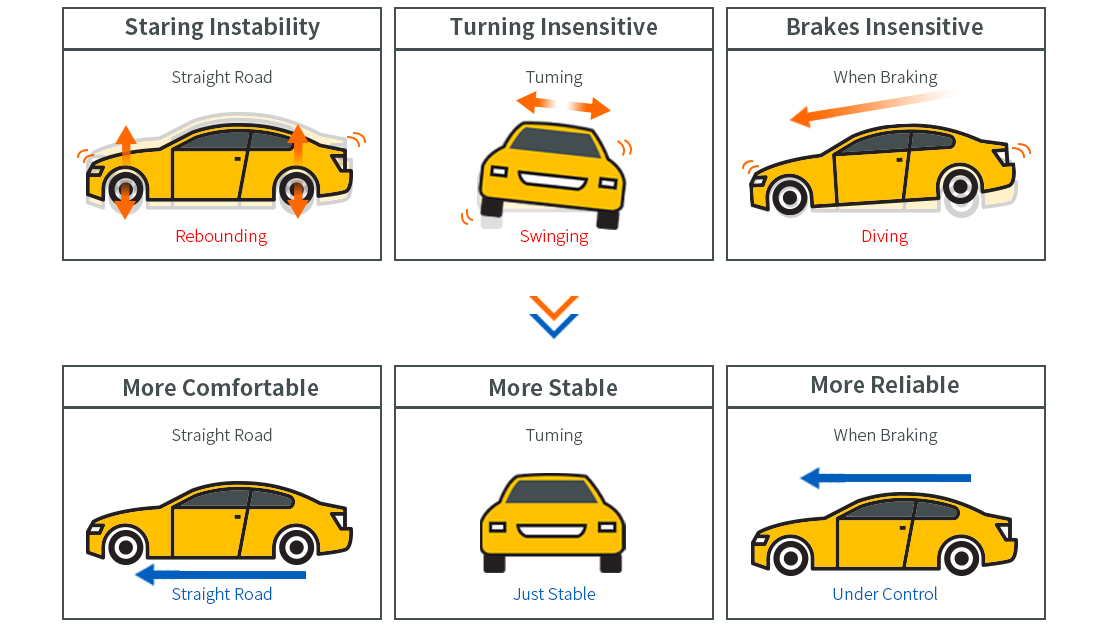 Enter your destination to get a shipping estimate.