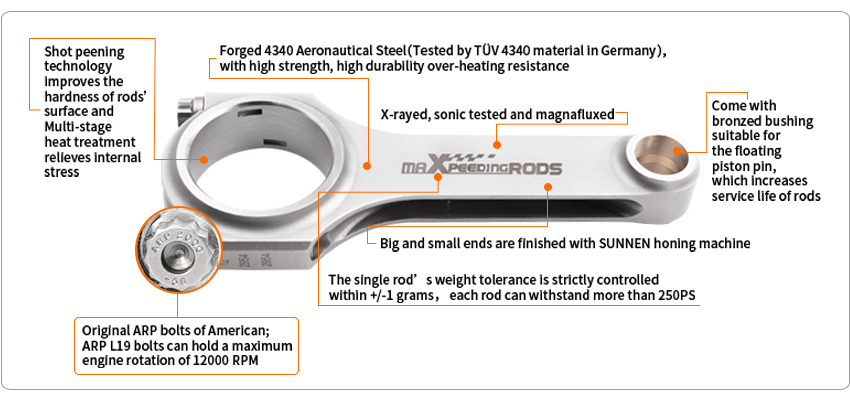 Connecting Rods for Subaru Impreza Legacy Forester RJ18 EJ20 EJ22 EJ25 WRX Sti

Fit for

for Subaru Impreza WRX STI EJ20 EJ22 EJ25 Engine
for Subaru Forester EJ20 EJ25 Engine
for Subaru Legacy EJ20 EJ22 EJ25 Engine

Type

H-Beam Connecting Rod

Quantity

Set of 4 Pieces with 8 ARP 2000 bolts

Weight Tolerance

Balanced to +/- 1 gram in set

Bolts

Including Genuine 3/8" ARP 2000 bolts

Note

Extra cost for upgrading to ARP L19 bolts

Warranty

1 Year warranty

HP Rating

Around 600-800HP

Dimensions

Center to center length

130.5mm

Big end diameter

55mm

Small end diameter

23mm

Big end width

21.38mm

Small end width

21.38mm

Compatibility


2002-2005 for Subaru Impreza WRX STI Forester Legacy WRX 2.0L Turbo (EJ205 Engine)
2006-2014 for Subaru Impreza WRX 2.5L Turbo (EJ255 Engine)
2004-2016 for Subaru Impreza WRX STI 2.5L Turbo (EJ257 Engine)
For Saab 9-2X 2005-2006
For Isuzu Aska 1990–1993
For Subaru Legacy for JDM 1989-2009
for Subaru Forester for JDM SF series (1997 - 2002)
For Subaru Impreza WRX 2006–2014
For Subaru Forester XT 2004–2013
For Subaru Outback XT 2005, 2007-2009
For impreza 95-01
For Outback 95-96
(Please confirm the diemensions before purchasing)
Key Feature
- Forged SAE 4340 Chrome Moly Steel for the highest strength and durability, dedicated for Racing
- Designed and processed by CNC machine.
- All big and small ends are finished with SUNNEN honing machine
- Precision alignment sleeves positively locate the rod cap, maintaining big end bore size and eliminating cap walk
- 100% X-rayed, sonic tested and magnafluxed
- Multi-stage heat treated
- Shot peened to relieve stress
- Come with the bronzed bushing suitable for the floating piston pin
Compatibility

Make

Model

Type

Year

Engine

For Subaru

Forester

-

1997-

2.0L EJ20 Engine

2.5L EJ25 Engine
Car History
The For Subaru Forester is a compact crossover manufactured since 1997 by Fuji Heavy Industries and sold under the For Subaru
brand. Available in Japan from 1997, the Forester shares its platform with the Impreza. It was introduced in 1997 as a compact
crossover wagon. It has been crowned Motor Trend's 2014 SUV of the Year and The Car Connection's Best Car To Buy 2014.
Please feel free to contact us at sales@maxspeedingrods.com if you have any questions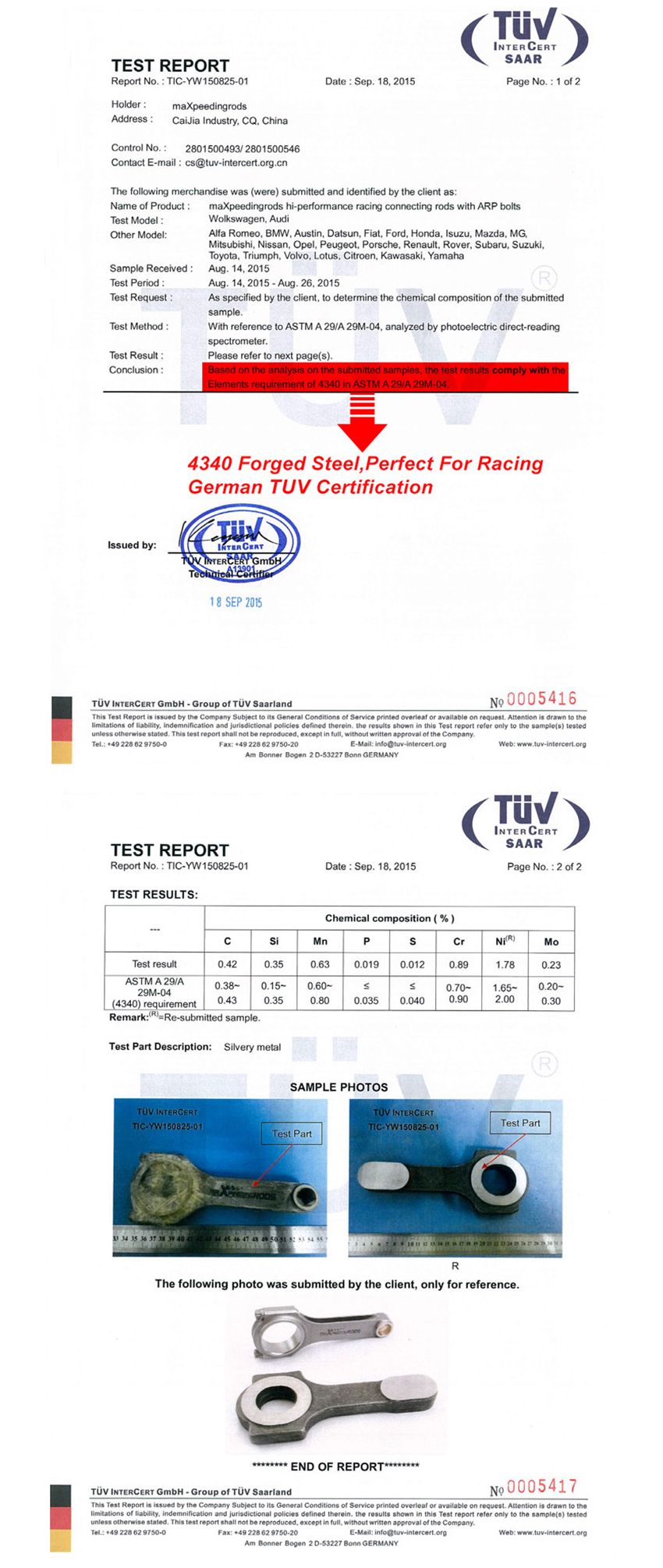 Enter your destination to get a shipping estimate.