Product Code:
CO-HONCIV3-B-NA
Fit for:
1990 1991 1992 1993 Acura Integra ( all model)
1988 1989 1990 1991 for Honda Civic / CRX ( all model)

Interchange Part Number:
171291R,171291L,171292
181291L,181291R,181292
11231,11232,15220
501712869L,501712919R,501712929,
9212-0002,9213-0001,9213-0003
7171291L,7171291R,7171292,
XS822119720,XS842119521,XS842119622
171946, 171945, 171266
5719463,2701256893,
5719456,2701256892,171266LR
51401SR0A02 51401SR0N02
51401SR2J41 51401SR2J51
51401SR3C01, 51401ST7N31
51601ST7972 51601ST8912
52611SH0A03 52611SH3G01
52611SH3N92 52611SR0N31 52611ST7A01
341136,341135,340008
Quantity:
2 piece front + 2 pieces rear
2 Stainless Steel Wrenches
Spring rate Front :8kg/mm (448 lbs/in)
Spring rate Rear : 5kg/mm (280 lbs/in)
Adjustable damper : Non Adjustable Damper
Adjustable hight : Yes
Adjustable camber plate : No
Warranty : 1 year warranty
Features:
* Adjustable ride height
* Adjustable pre-load spring tension
* Pillow ball top mount -- this design helps combat noise while tuning. It also improves the steering feel and response
* Most components are made from 6063 aluminum with T6 for increased hardness -- the advantages include excellent strength, and aluminum helps keep the weight down.
* Hi Tensile performance spring - Under 600,000 times continuously test, the spring distortion is less than 0.04%. Plus, the special surface treatment is to improve the durability and performance.
* All inserts come with fitted rubber boots to protect the damper and keep clean.
* Improve your handling performance without sacrifice comfortable ride.
* A fast and affordable way to easily upgrade your car's appearance.
* Easy installation with right tools.
* Ideal for any track, drift and fast road and can also be used for daily driving.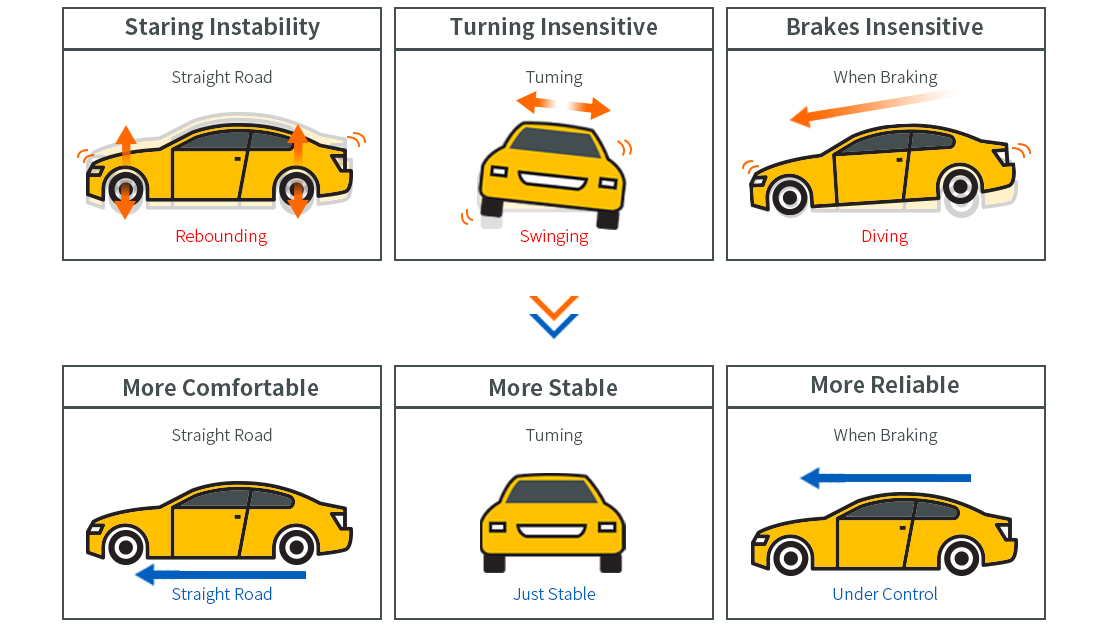 Enter your destination to get a shipping estimate.