800HP Connecting Rods For Renault Super 5 Series R5 1.4 Turbo GT Conrods + Bolts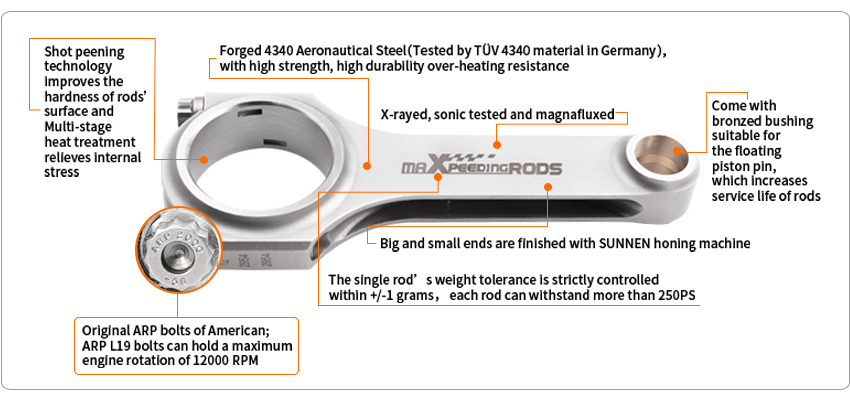 For Renault R5 GT Turbo // for Renault 11 Turbo 4340 Forged Steel H-Beam Connecting Rod
Feature

Type

Forged 4340 EN24 Aircraft Chrome Moly Steel H-Beam Connecting Rod

Quantity

4 Pieces as showing in picture

Bolts

Including Genuine ARP 2000 bolts

Bolts size

ARP 2000 3/8" bolts

Tolerance

Balanced to +/- 1 gram in set

Note

Extra cost for upgrading to ARP L19 bolts

Warranty

1 year

Dimensions

Center to center length

128mm

Big end diameter

47.61mm

Small end diameter

20mm

Big end width

21.8mm




Small end width

21.8mm
Key Feature
- Forged SAE 4340 Chrome Moly Steel for the highest strength and durability, dedicated for Racing
- Designed and processed by CNC machine.
- All big and small ends are finished with SUNNEN honing machine
- Precision alignment sleeves positively locate the rod cap, maintaining big end bore size and
eliminating cap walk
- 100% X-rayed, sonic tested and magnafluxed
- Multi-stage heat treated
- Shot peened to relieve stress
- Come with the bronzed bushing suitable for the floating piston pin
Compatibility

Make

Model

Type

Year

Engine

For Renault

R5

GT Turbo

1985-1991

1.4L C1J I4
For Renault 5 History
The For Renault 5 is a supermini produced by French automaker For Renault. It was produced in two generations 1972–1985 (also
called R5) and 1984–1996 (also called Super 5 or Supercinq). The R5 was sold in the US as Le Car, from 1976 to 1983.
Nearly 5.5 million were built.
The R5 borrowed mechanicals from the For Renault 4, using a longitudinally-mounted engine driving the front wheels with torsion
bar suspension. OHV engines were borrowed from the For Renault 4 and For Renault 8: there was a choice, at launch, between 782cc
and 956cc according to price level. The second generation For Renault 5, often referred to as the Supercinq or Superfive, appeared
in 1984 (RHD models from 1985).
Please feel free to contact us at SalesUS@Maxpeedingrods.com, if you have any questions!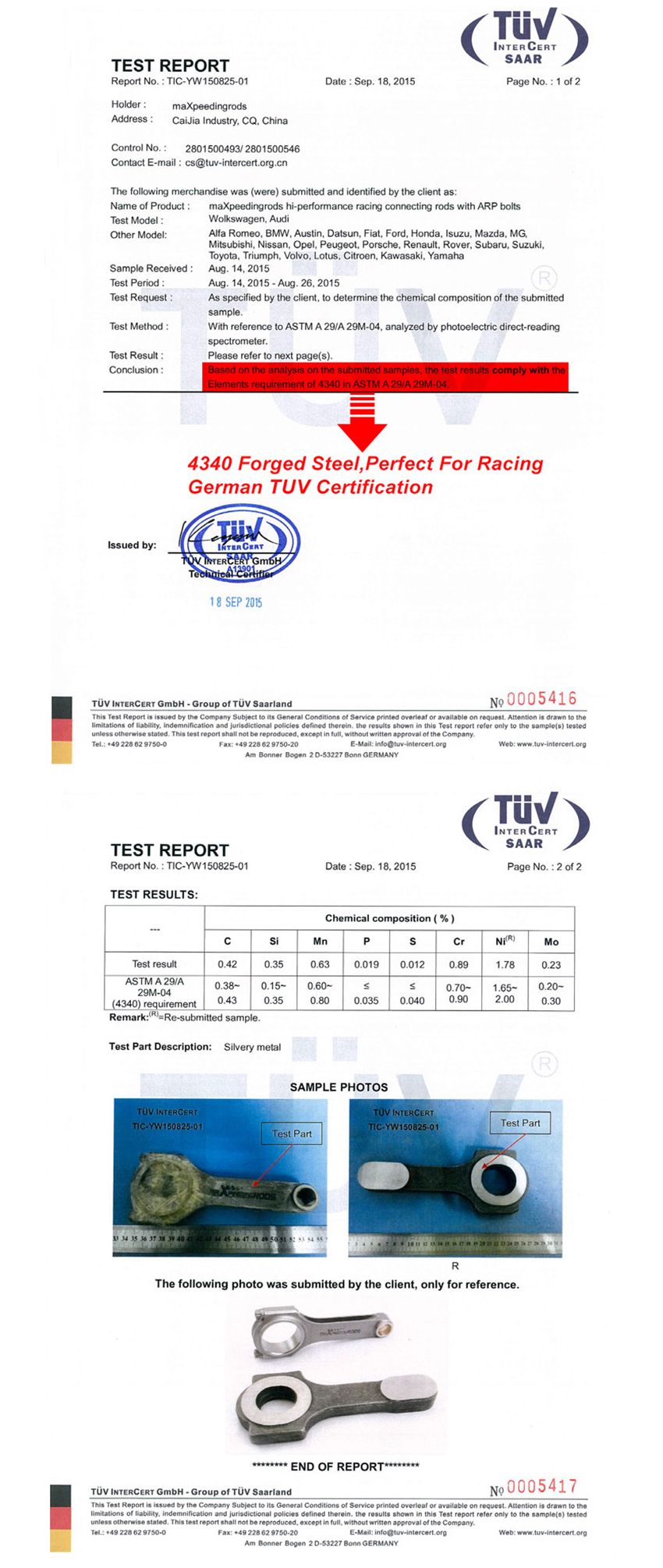 Enter your destination to get a shipping estimate.
Related Products
more>>