For Ford Sierra Escort RS Cosworth YB 136.5mm ARP 2000 Pleuel Bielle Connecting Rod - High Performance 4340 EN24 H-Beam Conrod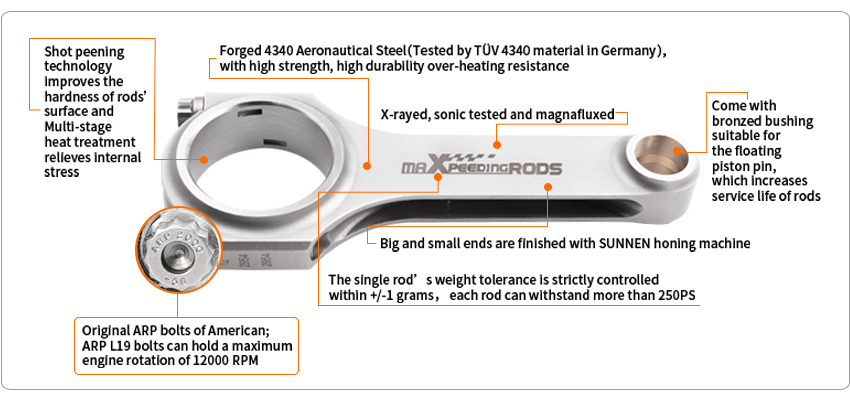 For Ford Sierra Escort RS Cosworth YB 136.5mm Connecting Rod - High Performance 4340 EN24 H-Beam Conrod
Compatibility

Fit for

For Ford Sierra Escort RS Cosworth YB 136.5mm

Type

4340 EN24 Forged Steel H-Beam Connecting Rod

Quantity

4 Pieces as showing in picture

Bolts

Including Genuine ARP 2000 bolts

Bolts size

ARP 2000 3/8" bolts

Lubricants

Without ARP Ultra Torque Assembly Lubricants

Tolerance

Balanced to +/- 1 gram in set

Note

Extra cost for upgrading to ARP L19 bolts

Warranty

Limited lifetime warranty

Dimensions

Center to center length

136.5mm

Big end diameter

55mm

Small end diameter

22mm

Big end width

25.9mm

Small end width

25.9mm
Key Features

- Forged SAE 4340 Chrome Moly Steel for the highest strength and durability, dedicated for Racing

- Designed and processed by CNC machine.

- All big and small ends are finished with SUNNEN honing machine

- Precision alignment sleeves positively locate the rod cap, maintaining big end bore size and eliminating cap walk

- 100% X-rayed, sonic tested and magnafluxed

- Multi-stage heat treated

- Shot peened to relieve stress

- Come with the bronzed bushing suitable for the floating piston pin
Racing Report
The Sierra Cosworth was also pressed into service as a rally car, and saw some success. After the abolition of the Group B formula in the
World Rally Championship at the end of 1986, manufacturers had to turn to Group A cars and For Ford, like most others, found itself without a
fully suitable car. The Cosworth was very powerful but, with only rear-wheel-drive, lost out to the four-wheel-drive Lancias and For Mazdas on
loose-surface events, while the four-wheel-drive XR4x4 had an excellent chassis but an elderly engine producing only around 200 bhp, at
least 100 less than the Lancia. For the 1987 season the team ran both, using the XR4x4 on loose surfaces and the Cosworth on tarmac,
but the XR4x4's power disadvantage was too great and from 1988 the team concentrated on the Cosworth alone, and continued to use it
until the arrival of the Sierra RS Cosworth 4x4 in 1990.
Please feel free to contact us at SalesUS@Maxpeedingrods.com if you have any questions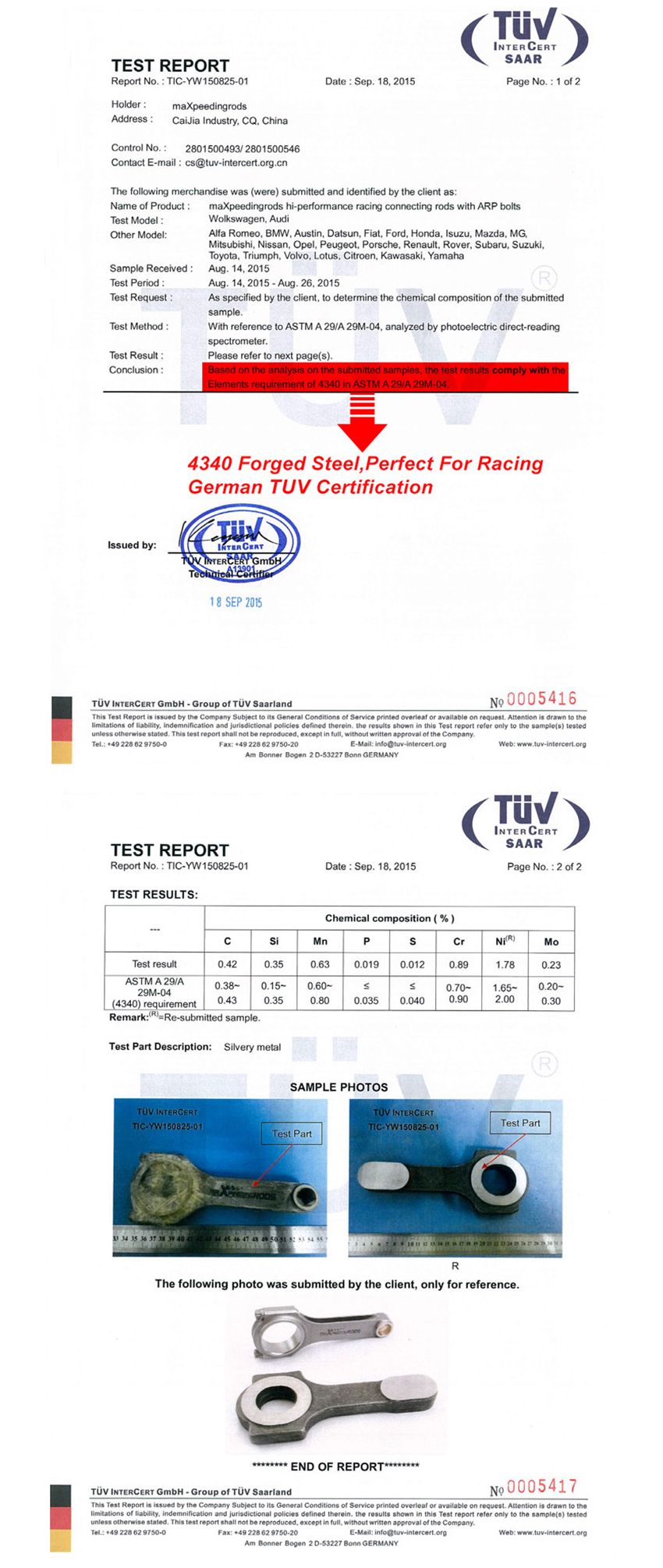 Enter your destination to get a shipping estimate.
Related Products
more>>