For Alfa Romeo 145 2.0L 16-valve Twin Spark 145mm H-beam Connecting Rods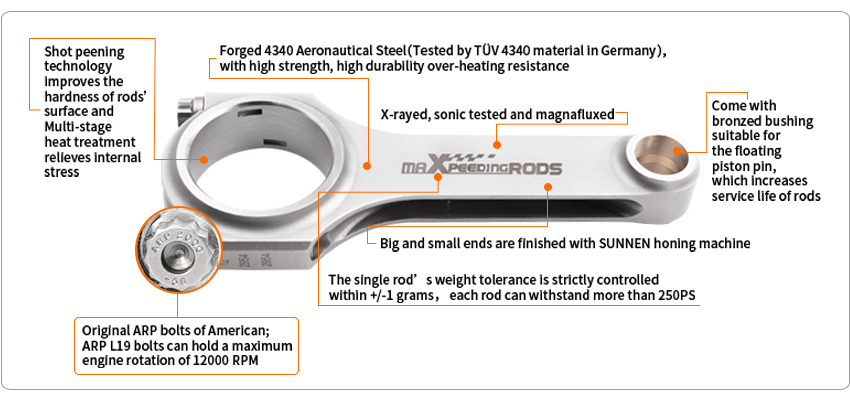 For Alfa Romeo 145 2.0L 16-valve Twin Spark H-Beam Connecting Rods
Feature

Type

Forged 4340 EN24 Aircraft Chrome Moly Steel H-Beam Connecting Rods

Quantity

4 Pieces as showing in picture

Bolts

Including ARP 2000 bolts

Bolts size

Genuine ARP 2000 3/8" bolts

Tolerance

Balanced to +/- 1 gram in set

Note

Extra cost for upgrading to ARP L19 bolts

Warranty

1 year

Dimensions

Center to center length

145mm

Big end diameter

53.9mm

Small end diameter

20mm

Big end width

xx

Small end width

xx
Key Feature
- Forged SAE 4340 Chrome Moly Steel for the highest strength and durability, dedicated for Racing
- Designed and processed by CNC machine.
- All big and small ends are finished with SUNNEN honing machine
- Precision alignment sleeves positively locate the rod cap, maintaining big end bore size and eliminating cap walk
- 100% X-rayed, sonic tested and magnafluxed
- Multi-stage heat treated
- Shot peened to relieve stress
- Come with the bronzed bushing suitable for the floating piston pin
Compatibility

Make

Model

Type

Year

Engine

For Alfa Romeo

145

-

1995-2000

2.0L 16V Twin Spark
Car History
The For Alfa Romeo 145 is a small family car produced between 1994 and 2000. It was launched at the 1994 Turin Motor Show.
The 145 shares design plans and interior components from the B-pillar forwards with the 146. The 145 is a three-door
hatchback and 146 is a five-door family hatchback. 221,037 145s were built.
Please feel free to contact us via email: SalesUS@Maxpeedingrods.com for any questions.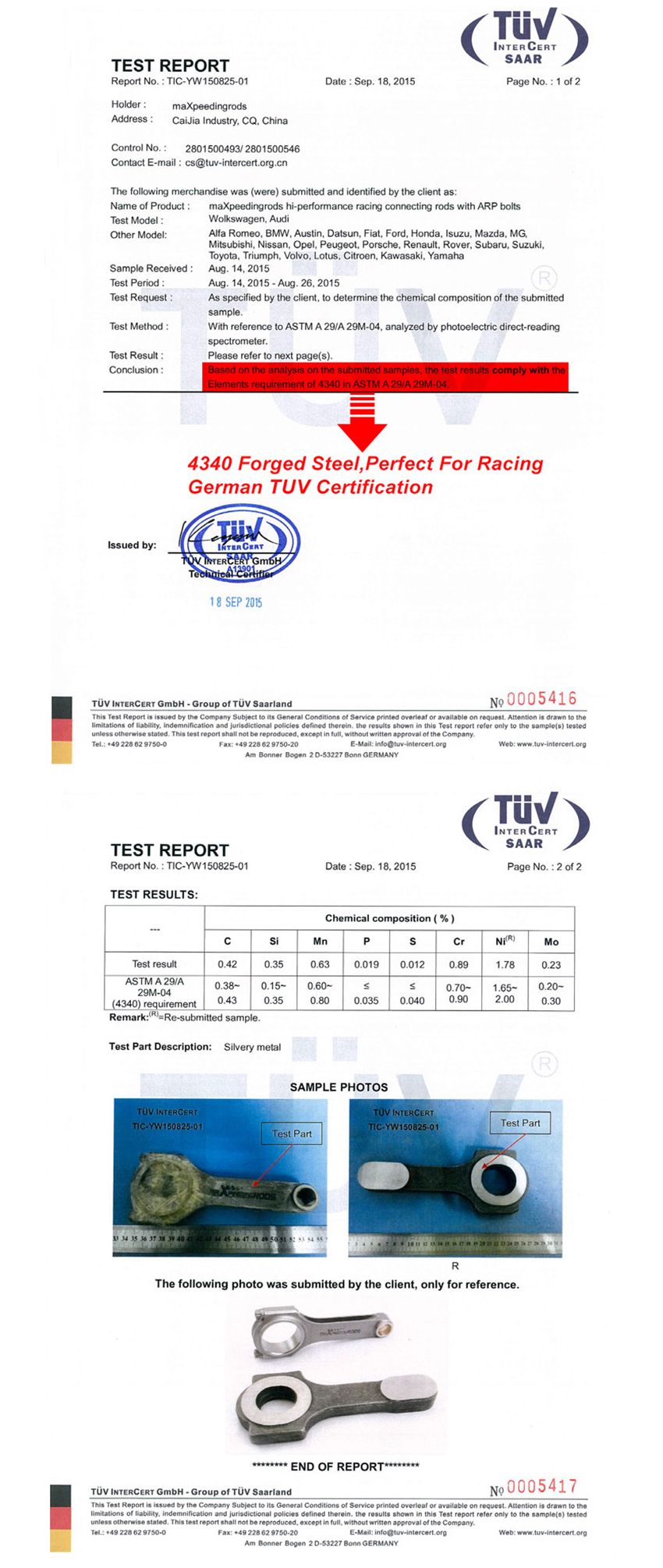 Enter your destination to get a shipping estimate.
Related Products
more>>