Connecting Rod For Alfa Romeo GTV6 75 2.5 3.0 V6 Con Rod ARP 2000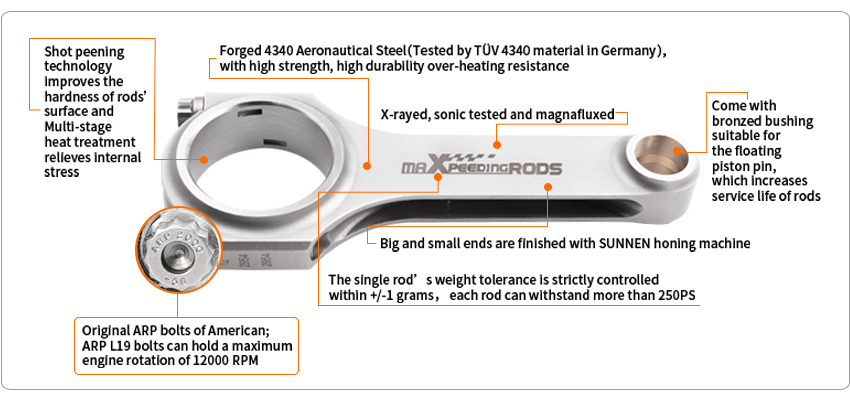 For Alfa Romeo 75 / Milano 2.5L & 3.0L V6 H-Beam Connecting Rods
Feature

Type

Forged 4340 EN24 Aircraft Chrome Moly Steel H-Beam Connecting Rods

Quantity

6 Pieces as showing in picture

Bolts

Including ARP 2000 bolts

Bolts size

3/8" bolts

Lubricants

Without ARP Ultra Torque Assembly Lubricants

Tolerance

Balanced to +/- 1 gram in set

Note

Extra cost for upgrading to ARP L19 bolts

Warranty

Limited lifetime warranty

Dimensions

Center to center length

131.1mm

Big end diameter

55.6mm

Small end diameter

22mm

Big end width

xx

Small end width

xx
Note: This is not offset design
Key Feature
- Forged SAE 4340 Chrome Moly Steel for the highest strength and durability, dedicated for Racing
- Designed and processed by CNC machine.
- All big and small ends are finished with SUNNEN honing machine
- Precision alignment sleeves positively locate the rod cap, maintaining big end bore size and eliminating cap walk
- 100% X-rayed, sonic tested and magnafluxed
- Multi-stage heat treated
- Shot peened to relieve stress
- Come with the bronzed bushing suitable for the floating piston pin
Compatibility

Make

Model

Type

Year

Engine

For Alfa Romeo

75

Also called For Alfa Romeo Milano

1985-1992

2.5L V6 Engine

3.0L V6 Engine
Racing History
- For Alfa Corse raced the 75 Turbo Group A in the World Touring Car Championship in 1987 season.
- Colin Bond won the 9th in 1987 Australian Touring Car Championship. He also finished 5th in 1987 Australian Grand Prix.
- Gianfranco Brancatelli won the 1988 ITC serie with For Alfa 75 Turbo and Giorgio Francia placed 2nd in the 1991 ITC.
- The 9th Giro d'Italia in 1988 was won by the team of Miki Biasion, Tiziano Siviero and Riccardo Patrese with a 75 Turbo
Evoluzione IMSA.
- A 75 Turbo Evoluzione IMSA also won the 10th Giro d'Italia in 1989.
Please feel free to contact us via email: SalesUS@Maxpeedingrods.com for any questions.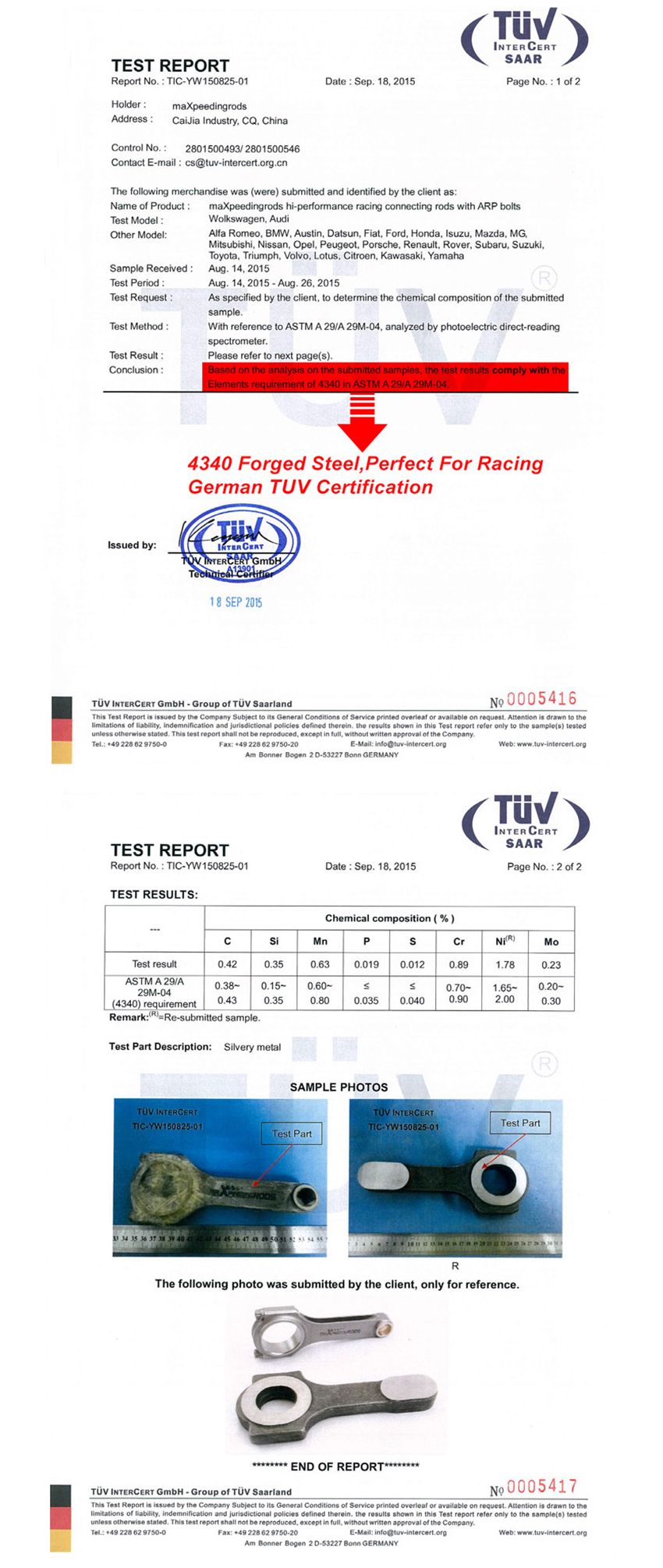 Enter your destination to get a shipping estimate.
Related Products
more>>